This wonderful property has been constructed in such a way as to blend naturally with the existing beauty of the location.
Penny and Steve manage the three-year building process from their house in Kathmandu. They have succeeded in constructing a wonderful property with articles collected from all parts of the world.
Walls? While completely protected, the house does not have any interior walls. The enormous stone act as a normal divider between the bedrooms and between the bath and living area. The master suite is divided from your family areas by its own natural elevation and magnificently carved wood panels, which seclude the area but don't obstruct the views or winds.
You will not lack anything in this thoughtfully chosen house. The couches and veranda furniture are custom designed and adaptable to suit your every whim or disposition. Whether enjoying the mild sleek surfaces of the great wood stairs under your toes or the capability of a thoughtfully-appointed kitchen, you'll find your house quite comfy.
The guest house has air-conditioning, but you could possibly choose to open all the sliding doors to the welcome the fresh air. The guest house features a little kitchenette sufficient for sun downers, morning drinks or mild snacks.
Property Id : 10492
Bedrooms: 3
Bathrooms: 3
Similar Listings
The villa consists of four independent pavilions which were carefully built to blend superbly with the hillside. Si
[more]
The villa consists of four independent pavilions which were carefully built to blend superbly with the hillside. Si
[more]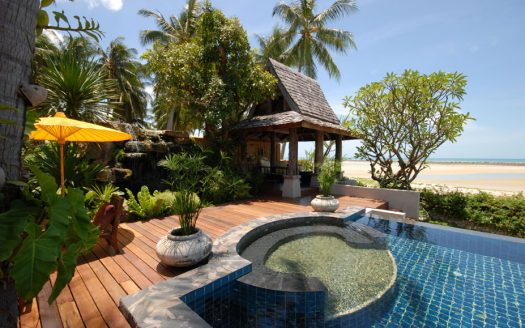 This high-end Koh Samui beach villa has been carefully built to offer some of the finest lodgings in Koh Samui. Wit
[more]
This high-end Koh Samui beach villa has been carefully built to offer some of the finest lodgings in Koh Samui. Wit
[more]
It sits looking out among the very tranquil beaches in Koh Samui, seen by few visitors. The only sound which can be
[more]
It sits looking out among the very tranquil beaches in Koh Samui, seen by few visitors. The only sound which can be
[more]