Villa Kohia is specially conceived and developed to offer guests the comforts and benefits of a contemporary house in a beautiful tropical setting. The villa provides a wide selection of first-class services and comforts in a spectacular, oceanview place that really makes the most of Koh Samui's exceptional natural environment.
The four bedrooms, multilevel home boasts ample living areas with Asian style interiors and rich furnishings that combine organic materials and a contemporary complimented with latest technologies. Perfect for an exclusive family vacation, for couples or several friends sharing the house, Villa Kohia's generous communal amenities, broad balconies and luxury bedrooms ensure lots of space for all to unwind in peace and simply take in the breathtaking island view.
This mix of exclusivity and tranquility is an uncommon blend in a favorite vacation destination like Koh Samui, particularly at such inexpensive rates. Villa Kohia's ample bedrooms and ample living, eating and relaxation areas are spread over two structures, divided by an open-air courtyard furnished with outside settees and armchairs.
All the chambers are served by measures that lead to the villas entry down the right or left side of the home into a big, lower level sun patio, 12 metre private pool and cushioned, sea-view sala. The master bed is the end-unit and provides its visitors added private space, beautiful sea views plus a 42″ Television as well as a bath in the en-suite.
Both guest bedrooms also feature en-suites with blend in and outside toilets and rain showers. The low floor double bedroom folds open right onto the villas interior courtyard as well as features a mezzanine level library and linking bath. The chamber is furnished with sink-in to sofas and arm-chairs poised before 42 flat-screen PLASMA – TV, as well as a fashionable wooden table, to seat 8 easily, while standing lamps and Asian artefacts put in a feeling of homely sophistication.
Villa Kohia's exceptional lower level pool-side lounge and patio offer an ideal spot to spend lazy days and evenings enjoying the Samui sunshine, sea breeze and beautiful views in peaceful, cushioned relaxation. Oversized loungers supply an attractive spot to recline while an equally indulgent relaxation sala provides protected escape.
The villa's 2nd grand living and dining area fills the pool-side room on the top floor couch. This space is furnished with a big couch, coffee table and still another 8- seater table and chairs, ideal for alfresco dishes. Villa Kohia provides partners, families or groups of buddies an idyllic private island getaway. The broad, sensible layouts and fold-open space styles mean guests can quickly wander the dwelling spaces, pool-side areas, and bedrooms while enjoying gorgeous ocean views.
Property Id : 10468
Bedrooms: 4
Bathrooms: 5
Similar Listings
With an exclusive pool patio surrounded by pivot panels for extreme privacy, the One-Bedroom Pool Villa produces an
[more]
With an exclusive pool patio surrounded by pivot panels for extreme privacy, the One-Bedroom Pool Villa produces an
[more]
This spectacular property boasts of breathtaking panoramic ocean view all over the bay. The villa was built to prod
[more]
This spectacular property boasts of breathtaking panoramic ocean view all over the bay. The villa was built to prod
[more]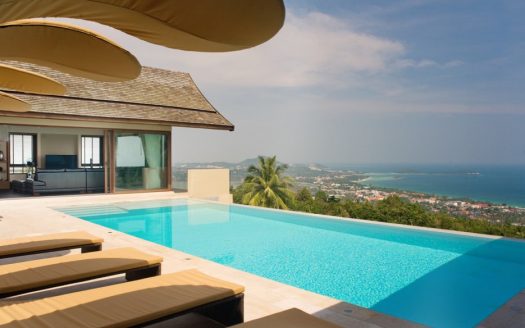 Situated on a beautiful hillside property, Villa Satu is only minutes from the famous Chaweng Beach. The villa was
[more]
Situated on a beautiful hillside property, Villa Satu is only minutes from the famous Chaweng Beach. The villa was
[more]