It boasts 180 meters of shore frontage and is very exceptional with historical allure, classic nature and modern comfort beyond other things you'll experience on Samui.
Samudra was designed and constructed by multimedia artist Alan Kozlowski, a world renowned photographer  along with his spouse Emma, an interior decorator of numerous homes all over the world. They really camped on the website for many months before developing the different structures that constitute the villa. Following their wilderness encounter they set off on a trip of discovery across Asia, sourcing initial stuff and adornments in areas as varied as China, Myanmar, Bali and Southern Thailand. The effect is a rich mixture of influences that unites natural sophistication with comfort and stunning antiquity.
The flooring of the buildings happen to be strategically constructed across the granite boulder load property, and the roof is made of are recycled 100-year old teak in the north of Siam. In this creation is a bedroom which is a lavish blend of classic, Asian artifacts, and contemporary comfort.
The vaulted ceiling, using its hefty beams, provides a sensation of times gone by. The chamber is lit with exceptional lamps which were crafted from Chinese lanterns that hang in the beams. The chamber is cooled by both fans and airconditioning.
Another bedroom, which is well suited for kids, is divided in the principal bedroom with a big dressing room that has amazing classic Chinese wardrobes, as well as a well-appointed bath. Beyond this chamber a sizable stone urn sits next to early carved Chinese doorways beyond which lies the unbelievable Octagon Temple, an open-sided living space that provides magnificent ocean views as well as the natural wind off the sea.
The look of the elevated kitchen cleverly disguises the modern comforts it includes; in exactly the same manner the lounge space disguises an HD projector and substantial projection screen. The centerpiece of the area, that's perched along with a huge rock is a coffee-table created from scarce, green Kanchanaburi river stone more of which are available throughout this stunning villa.
To the left of the area, doors open onto some teak actions that lead around an open air toilet that is constructed in the bottom of an enormous granite stone face that provides an outside shower. Here you may have a tropical bathing encounter underneath the rain shower or in the terrazzo tub.
Property Id : 10393
Price:
$ 1,325
/ day min.
Bedrooms: 7
Bathrooms: 6
Similar Listings
The villa consists of four independent pavilions which were carefully built to blend superbly with the hillside. Si
[more]
The villa consists of four independent pavilions which were carefully built to blend superbly with the hillside. Si
[more]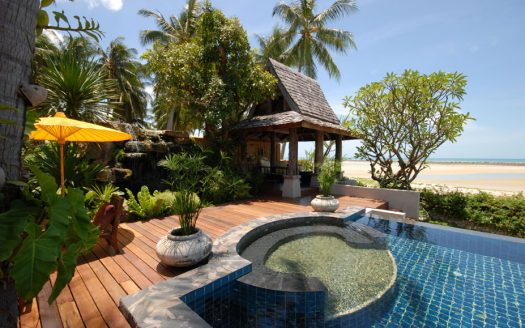 This high-end Koh Samui beach villa has been carefully built to offer some of the finest lodgings in Koh Samui. Wit
[more]
This high-end Koh Samui beach villa has been carefully built to offer some of the finest lodgings in Koh Samui. Wit
[more]
It sits looking out among the very tranquil beaches in Koh Samui, seen by few visitors. The only sound which can be
[more]
It sits looking out among the very tranquil beaches in Koh Samui, seen by few visitors. The only sound which can be
[more]