Imagine coming home to the lovely paradise villa using the Mountain View hideaway and its private pool.
With a Japanese garden and outside deck with BBQ and complete with sofa furniture, this contemporary two-story home is located in a peaceful setting with no disturbance to the natural environment.
The big master bedroom comes with all the facilities that you would expect in a modern property.
The highlight of this wonderful property is the excellent security that it provides to the guests.
Security camera systems and remote controlled gate, letting you enjoy the lovely location in absolute privacy and safety.
Property Id : 10387
Bedrooms: 4
Bathrooms: 4
Similar Listings
With an exclusive pool patio surrounded by pivot panels for extreme privacy, the One-Bedroom Pool Villa produces an
[more]
With an exclusive pool patio surrounded by pivot panels for extreme privacy, the One-Bedroom Pool Villa produces an
[more]
This spectacular property boasts of breathtaking panoramic ocean view all over the bay. The villa was built to prod
[more]
This spectacular property boasts of breathtaking panoramic ocean view all over the bay. The villa was built to prod
[more]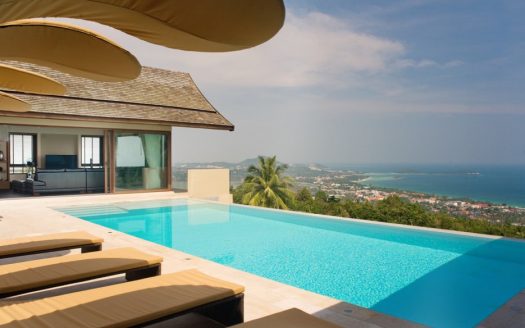 Situated on a beautiful hillside property, Villa Satu is only minutes from the famous Chaweng Beach. The villa was
[more]
Situated on a beautiful hillside property, Villa Satu is only minutes from the famous Chaweng Beach. The villa was
[more]