La Lagune is a remarkable property which provides all that you would expect from a premium luxury property in a comparatively untouched region of Koh Samui. located in  Laem Set shore, on the south shore of the isle, the villa can be found in its big tropical gardens.
It has a private tennis court and the property comprises the very best of the indoor/outdoor living theory.
La Lagune using its neutral tones has additionally installed organic touches of wood, glass and rock to accentuate the great thing about the house as well as the encompassing. Collectively these facets have created a practical and attractive house. That is immediately noticeable when you go to the house and, therefore, are met with the enormous area of lush green grass in the tropical backyard near the ocean.
All bedrooms have ensuite bathrooms with coated outside showers and big built in wardrobes. The Master bedroom with its breathtaking sea views also has a plasma and home cinema along with a big Jacuzzi bath in the ensuite. This tasteful living space also looks out over the big white rock patio/BBQ lounge space as well as the villa's swimming pool with adjoining Sala.
The villa's big tropical garden is good for entertainment or games and with a unique Thai fashion Sala on the shore it's also well suited for relaxation. With regards to the time of year both a sunrise or sunset views may be experienced from all areas of the villa; using the nearby off-shore islands making a beautiful backdrop. La Lagune is a well-thought out, useful and multifunctional home. Its trendy design and layout jointly with quality appointments throughout will ensure gratification for even the most discerning of an invitee. Its seclusion and solitude will increase the relaxation and satisfaction of any visitor and will certainly create amazing memories of Koh Samui and La Lagune!
Property Id : 10377
Price:
$ 1,750
/ day min.
Bedrooms: 5
Bathrooms: 6
Similar Listings
The villa consists of four independent pavilions which were carefully built to blend superbly with the hillside. Si
[more]
The villa consists of four independent pavilions which were carefully built to blend superbly with the hillside. Si
[more]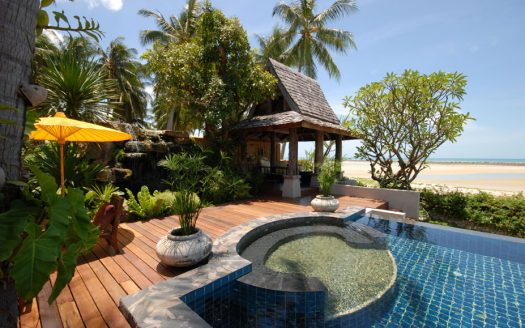 This high-end Koh Samui beach villa has been carefully built to offer some of the finest lodgings in Koh Samui. Wit
[more]
This high-end Koh Samui beach villa has been carefully built to offer some of the finest lodgings in Koh Samui. Wit
[more]
It sits looking out among the very tranquil beaches in Koh Samui, seen by few visitors. The only sound which can be
[more]
It sits looking out among the very tranquil beaches in Koh Samui, seen by few visitors. The only sound which can be
[more]