Entering through the elaborate gateway to the remarkable development, the first thing you notice is the experience of luxury and complete quality. Natural stone walls add privacy to the upmarket houses and tropical landscaping improves the look, creating an attractive, all natural living surroundings.
Kalya Home is the best villa on the estate. The name means 'wellness' and you definitely feel the advantages of the natural atmosphere only at that villa. Kalya Home is a refined and tasteful house that combines eye-catching architectural characteristics, extraordinary furnishings, natural stuff, as well as a scintillating sea view from every room.
Entering the home through the fashionable wooden gate with wood-tiled roof construction, the house opens into a well-planted, landscaped tropical backyard. Everything relating to this villa provides you with a cozy and homely experience. You can envision spending hours relaxing and appreciating this garden. To the right is a big covered drive and again, increasing the naturalness of the villa, wood tiles are put to use for the roofing.
In the drive, steps lead up into a patio area on the medial side of the primary building. The route in the gate is fringed having a water fountain and natural stone partitions. Bordering the backyard, an all natural stone wall produces a large, rear wall which drops all the way down into a moat-like water feature that runs behind the bottom level of the home. The course has steps as much as a bridge which crosses this room. Big wooden doorways open into an amazing raised living place.
An eye-catching base dining table sits just like an item of artwork in the middle of the area. To the right is a state-of-the-art kitchen space with the island characteristic.
There is also a balcony with glass partitions which appears in the garden, as well as the beautiful pool, along with the views of the ocean. On the balcony, there are all weather seats where it is possible to sit and enjoy.
A covered path runs across the front of the chambers giving everyone an outside patio. Each one of these three bedrooms has built in wardrobes as well as a back ensuite bath with views out to the water fountain as well as the complex and lovely natural stone wall running behind the house and up to the level above. In each, the furniture is top quality and trendy and the rooms are accessorized with beautiful modern artworks. In the entrance of the bedroom,  is a yard which is well laid out using a lot of tropical trees and crops. In the front of the house is the big blue tiled pool.
Property Id : 10376
Price:
$ 1,400
/ day min.
Bedrooms: 4
Bathrooms: 4
Similar Listings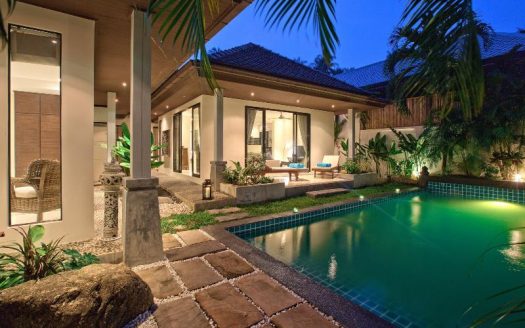 This 2-bedroom villa is located in Bo Phut hills on Koh Samui and is an ideal place to indulge yourself in the beau
[more]
This 2-bedroom villa is located in Bo Phut hills on Koh Samui and is an ideal place to indulge yourself in the beau
[more]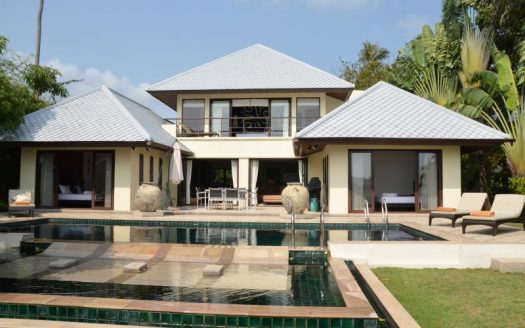 Villa Sabai is situated on one of the most popular locations on Koh Samui. Located the peninsula between Bang Rak a
[more]
Villa Sabai is situated on one of the most popular locations on Koh Samui. Located the peninsula between Bang Rak a
[more]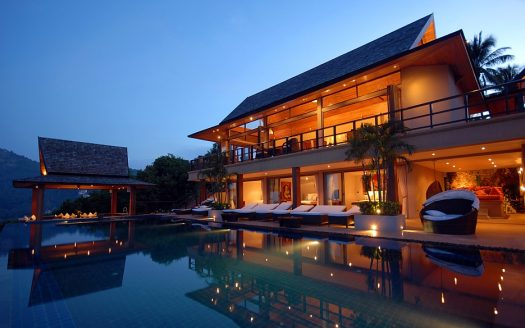 The villa was created by a well-known Hong kong-based architect to produce the perfect open plan lifestyle while at
[more]
The villa was created by a well-known Hong kong-based architect to produce the perfect open plan lifestyle while at
[more]