In this astonishing property, you'll be pleased with the incredible attention to detail along with the exceptionally constructed ornamentation with numerous finest antique furniture. The property is located in the very desired and peaceful community place, minutes from the center of the nightlife with several and different branded stores.
Created using a fusion of Asian and modern western layout while integrating the natural landscape and plant life, Chaweng Sea-View Villas  triumphs in bringing innovative, nowhere else noticed, structures to an original peak.
While relaxing in this astonishing property, you are going to feel the calmness, the serenity, the attractiveness as well as the relaxation of your sweet home. Chaweng Sea-View Villa was made to enhance the space and enjoy the seclusion and can provide you with the flavor of a high-end and unique lifestyle.
Designed for a family or several buddies, this astonishing estate can adapt to 10 adults and 3 kids (6 bedrooms) and it's broken up into 5 creating an oversize swimming pool, always flowing and a kid's pool region.
A tremendous outside patio of 282sqm having an enormous sundeck outfitted with cozy soothing sunshine seats is another highlight. At night, a continuous gentle breeze tempers the tropical sun. The buildings in the safe gated wall are colored in tropical-style, and perfectly designed and adorned with several vintage furniture and elegantly chosen modern contemporary art items.
Simply moving around the house is a trip to an unforgettable vacation stay, for you along with for friends and family or invitees. Pamper yourself in this unique, huge, beautiful and delightful home, with separate structures across the pool. A more open well-designed layout will be quite difficult to locate.
Property Id : 10359
Bedrooms: 6
Bathrooms: 6
Similar Listings
With an exclusive pool patio surrounded by pivot panels for extreme privacy, the One-Bedroom Pool Villa produces an
[more]
With an exclusive pool patio surrounded by pivot panels for extreme privacy, the One-Bedroom Pool Villa produces an
[more]
This spectacular property boasts of breathtaking panoramic ocean view all over the bay. The villa was built to prod
[more]
This spectacular property boasts of breathtaking panoramic ocean view all over the bay. The villa was built to prod
[more]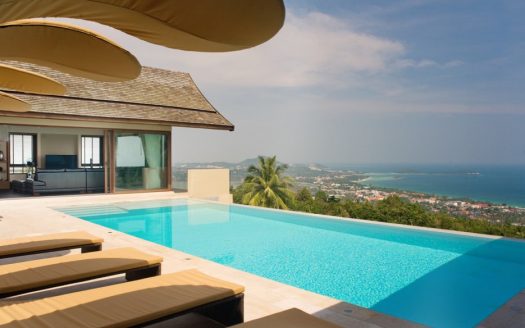 Situated on a beautiful hillside property, Villa Satu is only minutes from the famous Chaweng Beach. The villa was
[more]
Situated on a beautiful hillside property, Villa Satu is only minutes from the famous Chaweng Beach. The villa was
[more]