This lovely inside designed 3/4 bedroom luxurious villa has a private pool and separate Jacuzzi pool. The Seaside Village Home provides luxurious vacation accommodation in Koh Samui for those seeking peace and protection set beside an unspoiled beach on Koh Samui's tranquil southeast shore.
This single-storey house is deceptively roomy as once in there's a sense of roominess and absolute luxury. The interior design is the last word in this cool modern layout. The Koh Samui Villa offers a living area furnished with excellent furniture and soft furnishings including a corner couch suite, occasional tables and coffee table adorned with Thai handicrafts.
An appealing wood slat environment attribute divides the living space in the kitchen. The split-level kitchen/eating area is furnished with a 6 seater dining room table and seats, step-down leads to the advanced fully-equipped kitchen where everything you'll need for planning that special meal is offered including, oven, hob, microwave, and dishwasher.
The master suite of the Luxurious Villa is located in the living space. The inside is attractively decorated with soft furnishings, wall hangings, and indoor potted plants. The sumptuous bathroom with a bathtub and separate shower cubicle has a characteristic wall sculpture and appealing hanging light fittings. A hallway in the living space leads to 2 wonderfully adorned double bedrooms, both with en-suite bathrooms.
The bedroom to the back of the villa has a door which leads onto a secondary garden supplying a cool shadowed relaxing space. A fourth space of this Luxury Villa sits close to the entry to Seaside Village Home and is an exclusive wing unto itself, reached via its entry in the garden space. A sizeable area using a convertible couch/bed and fashionable ensuite make this a fantastic 4th bedroom when needed for these additional guests. In the corner of the backyard, different from your pool and surrounded by tropical plants, is an exclusive Jacuzzi pool which makes a great place for relaxing while sipping an evening cocktail.
Property Id : 10357
Bedrooms: 4
Bathrooms: 4
Similar Listings
The villa consists of four independent pavilions which were carefully built to blend superbly with the hillside. Si
[more]
The villa consists of four independent pavilions which were carefully built to blend superbly with the hillside. Si
[more]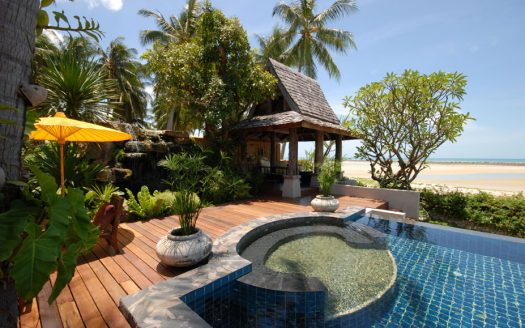 This high-end Koh Samui beach villa has been carefully built to offer some of the finest lodgings in Koh Samui. Wit
[more]
This high-end Koh Samui beach villa has been carefully built to offer some of the finest lodgings in Koh Samui. Wit
[more]
It sits looking out among the very tranquil beaches in Koh Samui, seen by few visitors. The only sound which can be
[more]
It sits looking out among the very tranquil beaches in Koh Samui, seen by few visitors. The only sound which can be
[more]