Villa Tawan is a huge and beautifully constructed villa that resides in a spectacular location with excellent and scenic views. Within easy range of the intimate Bophut Fishermans village, this villa provides a holiday design holiday while still being near to local amenities, shops and oceanfront restaurants.
To the right of the carport is a pool and patio complete with sun loungers, a water fountain and ocean views. At the far end of the pool, you'll find a dining sala that can easily seat six diners. The views in the sala are amazing helping to make it an ideal spot to get breakfast to begin your day. In the expansive pool patio, double doors open right into a cozy living space with sumptuous chairs as well as an additional dining area that will hold six diners in a tough wooden dining table with fashionable rattan seats.
The light gray cupboards with black granite providers is the perfect location to get a spot of home cooking which is made simple using a big refrigerator, microwave oven, four-ringed gas hob, electric oven along with a dishwasher. A tiny hallway, having trendy visuals as well as a modest library leads into a kingsize bedroom which has views over the back aspect of the house. The bedroom includes a big wardrobe, an en-suite toilet as well as a cozy seat.
The 2nd king size bedroom includes a substantial wardrobe and just beyond that's a huge family bathroom using a big tub, separate shower and appealing, wall-hung, stone carvings. In the master suite patio, doors open onto the pool terrace and also the views beyond. This chamber features a small ensuite rest room having a shower and individual entrance to the big family bathroom. The master suite includes a big double bed and considerable storage space and could be leased as a 2 or three-bedroom villa.
Property Id : 10339
Bedrooms: 4
Bathrooms: 4
Similar Listings
The villa consists of four independent pavilions which were carefully built to blend superbly with the hillside. Si
[more]
The villa consists of four independent pavilions which were carefully built to blend superbly with the hillside. Si
[more]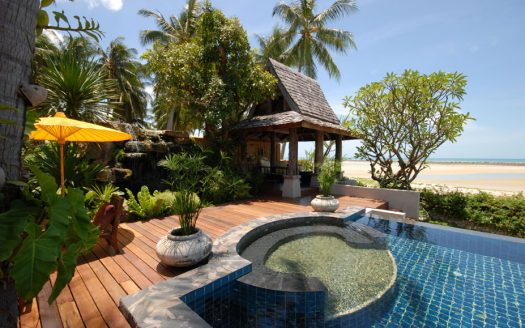 This high-end Koh Samui beach villa has been carefully built to offer some of the finest lodgings in Koh Samui. Wit
[more]
This high-end Koh Samui beach villa has been carefully built to offer some of the finest lodgings in Koh Samui. Wit
[more]
It sits looking out among the very tranquil beaches in Koh Samui, seen by few visitors. The only sound which can be
[more]
It sits looking out among the very tranquil beaches in Koh Samui, seen by few visitors. The only sound which can be
[more]