Of late, this area of the island is a favored option for sophisticated visitors searching for barefoot luxury and complete solitude. The materials and designs employed at Baan Silavaree have all been carefully selected and created to combine with the untainted natural environment. The estate's plot protection ratios of 20 percent ensure the attractiveness and solitude of the neighborhood are preserved and stays shielded.
The villa self-contains eye-catching architectural characteristics including an 18-foot-high thatched ceiling framed with thick teak wood beams, as well as the principal building surrounded by redwood balconies. The imported limestone decks frame that houses a 12-metre, beautiful pool, which likewise boasts 10mm thick glass edges and rattan pool furniture.
Providing around 550 square metres of absolute interior and outside living area, with verdant landscaped property and waterfalls covering over half an acre of private property, Baan Silavaree gives guests a rare chance to see refined but bona fide Isle living.
Assembled at multiple levels right into a spectacular forested hill Side, Baan Silavaree boasts modern Asian fashion as well as high-end in wealth. Top and lower level landscaped entries entice visitors to the compound through classic Indonesian Batak doorways, past cascading waterfalls.
The interiors have been tastefully furnished in traditional art.
A Balinese teak dining table seats ten for lunch served by a remarkable kitchen which includes a Portuguese slate center island, slate countertops and custom-built cherry wood cabinets with the required utensils to prepare everything from a romantic meal for your dinner party for 50 friends (a personal chef can be found at additional price).
Two standalone one-bedroom en-suite villas sit either side of the primary building and boast modern four poster beds with custom built teakwood cupboards inside their mezzanine bedrooms. The personal living-rooms function 3.5 meter sliding doorways that ensure guests awaken to breathtaking seascapes each morning.
Furnishings contain sink-into sofas, coffee tables, armchairs and cupboards with concealed doors for the flat-screen TVs and DVD players. A nicely stocked mini refrigerator, hot water heater, coffee and tea-making facilities will also be included for guests' benefit. Another area downstairs on the pool level is focused on outdoor cooking, using a covered barbecue area, independent kitchen, pub and dining room.
Property Id : 10335
Bedrooms: 4
Bathrooms: 6
Similar Listings
The villa consists of four independent pavilions which were carefully built to blend superbly with the hillside. Si
[more]
The villa consists of four independent pavilions which were carefully built to blend superbly with the hillside. Si
[more]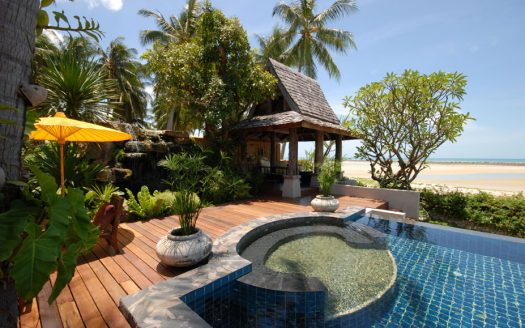 This high-end Koh Samui beach villa has been carefully built to offer some of the finest lodgings in Koh Samui. Wit
[more]
This high-end Koh Samui beach villa has been carefully built to offer some of the finest lodgings in Koh Samui. Wit
[more]
It sits looking out among the very tranquil beaches in Koh Samui, seen by few visitors. The only sound which can be
[more]
It sits looking out among the very tranquil beaches in Koh Samui, seen by few visitors. The only sound which can be
[more]