You go to the high-end villa by way of an attractive entry to the big main living space. The open-plan dwelling area has sliding doors and mosquito nets with cooling ceramic flooring tiles with every area of the villa having gentle down-lighting, up-lighting and fans.
Streaming to the right of the sitting room (with flat screen television & DVD, along with high-speed WiFi throughout) is an original seat-style eating area with chairs for 6. The dining area looks out on an outside wooden-decked room through double sliding doors, having a further dining table and chairs surrounded by exuberant tropical foliage that is ideal for relaxing, eating or unwinding in the shade.
Forming area of the dining-rooms appeal are big exquisite thatched slider doors that show a sizeable bedroom having a queen-size mattress and beautiful ornamentation including a whimsical white fluid canopy that drapes on the bed. Another sliding glass door types portion of the chamber, allowing to get an outstanding view of and accessibility to the immaculate pool. With its private ensuite complete using a big rain showerhead, this ensuite doubles as a guest toilet for the pool via a double-door program.
Upstairs you get the beautiful master suite, complete with a unique walk-in wardrobe that leads into a broad and fashionable bathroom using a large bathroom. The bedroom also includes exterior using a big wooden balcony where it is possible to sit and unwind, enjoying the wind of the ocean passing by. Another bedroom of the luxury villa sits next to the master suite, only past a desk space (for when you should write those postcards house!) which consists of two single beds and much more spectacular Thai art.
An extremely big and open room, this bedroom is perfect for friends and kids. Just like the master suite, it has a walk-in wardrobe, large ensuite, and grand balcony space. The villa is a superb mixture of the ancient and modern.
The landscaped gardens provide privacy as well as verdant surroundings to swim in the free-form swimming pool or simply take a 30-second stroll down the verdant coconut lined lane into a spectacular expanse of a white sandy shore. Paradise!
Property Id : 10306
Bedrooms: 3
Bathrooms: 3
Similar Listings
The villa consists of four independent pavilions which were carefully built to blend superbly with the hillside. Si
[more]
The villa consists of four independent pavilions which were carefully built to blend superbly with the hillside. Si
[more]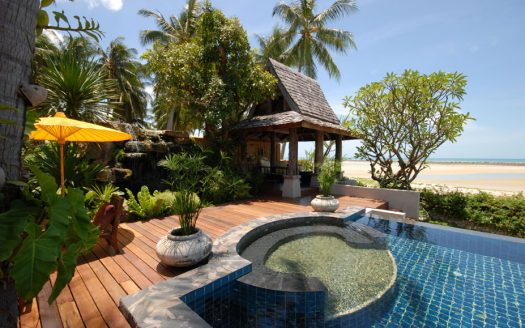 This high-end Koh Samui beach villa has been carefully built to offer some of the finest lodgings in Koh Samui. Wit
[more]
This high-end Koh Samui beach villa has been carefully built to offer some of the finest lodgings in Koh Samui. Wit
[more]
It sits looking out among the very tranquil beaches in Koh Samui, seen by few visitors. The only sound which can be
[more]
It sits looking out among the very tranquil beaches in Koh Samui, seen by few visitors. The only sound which can be
[more]